---
Things to do in NI - May Day Bank Holiday
The Power NI Map is back with all of the best events happening across Northern Ireland this May bank holiday (30th April-2nd May 2022)!

Whether you're taking part in the Belfast City Marathon, or you want to enjoy all that the City of Derry Jazz and Big Band Festival has to offer, take a look at what NI has to offer this Bank Holiday weekend!

Check out our blog for further details on all the events mentioned below and let us know what your favourite bank holiday activity was on Power NI's socials using the hashtag #ThePowerBehindYourWeekend.

Perk up your Bank Holiday weekend and spend less on 100s of big brands with Power NI Perks*! Save on all your picnic goodies with us. Save up to 7% at M&S with an e-voucher and get 4% off a reloadable card at Tesco. Not with us? Switch online in minutes.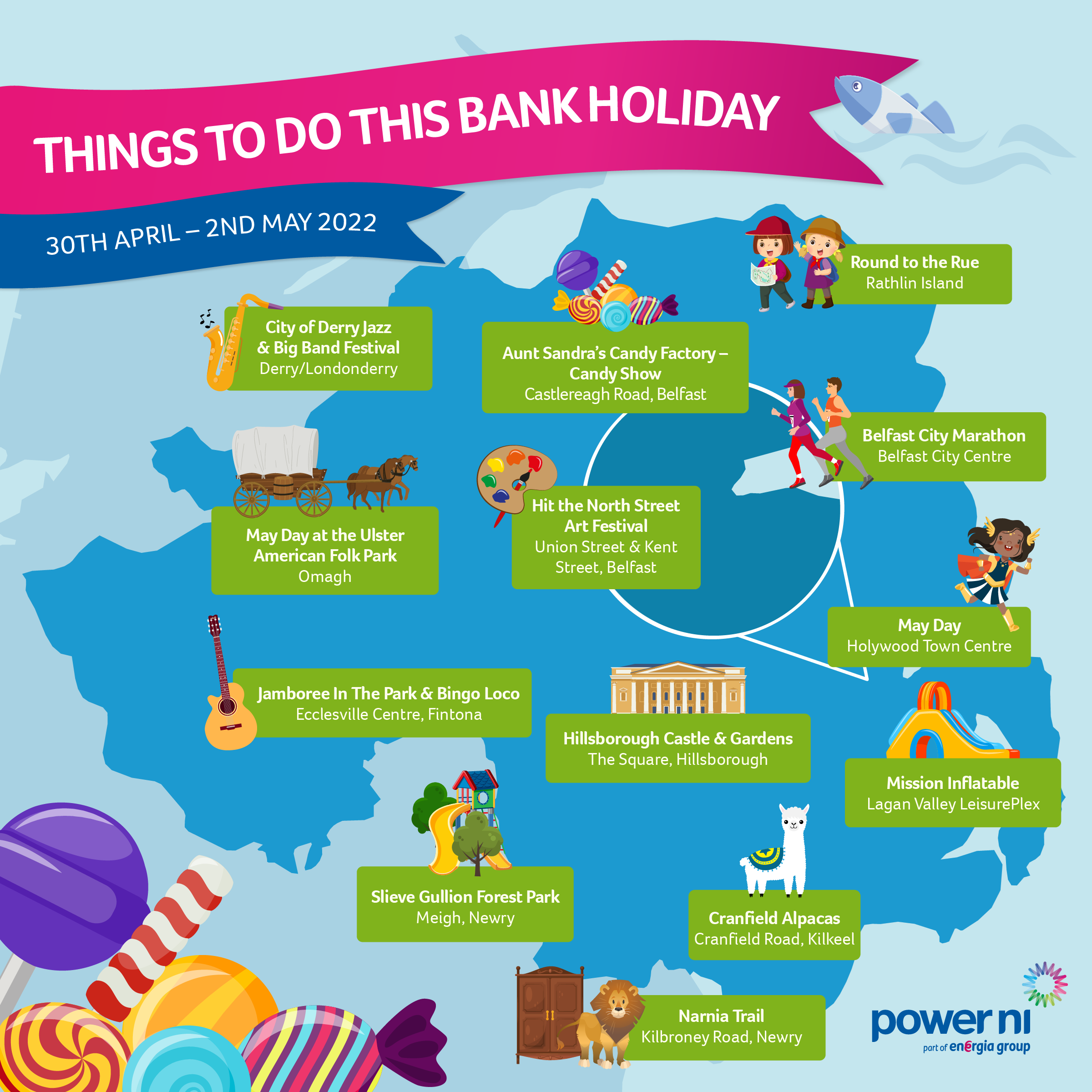 Mash Direct Belfast City Marathon
Location: Belfast City Centre
Date: Sunday 1st May 2022

2022 Mash Direct Belfast City Marathon takes place on Sunday 1st May at 9am starting from Stormont Estate (Prince of Wales Avenue) and finishing at Ormeau Park. Why not go along and support all those taking part from the sidelines!

Find out more

Round to the Rue
Location: Rathlin Island, off coast of Ballycastle coast
Date & Time: Sunday 1 May 2022, 11am – 2pm

Join in on the walk to the beautiful Rue point on the lower end of Rathlin, with spectacular views out over the Rathlin Sound and of the Fairhead plateau made even more famous by the HBO series Game of Thrones. The walk will consist of minor roads and grassy trails, traversing headlands, and skirting shorelines. The guide Kevin will introduce the island's history, heritage and story through commentary and visual storytelling. The Rue point is the closest point between Rathlin and the Mainland and was for many years a vibrant port with a history of smuggling and now is home to a colony of seals observable from a safe distance.

Find out more

May Day
Location: Holywood Town Centre, County Down, BT18 9AB
Date: 2 May 2022
Admission: FREE

The free family fun day will see a number of much-loved favourite features returning: the crowning of the May Queen, the Bonny Baby competition and, of course, the fancy dress competition, which always sees fantastic display of effort. This year children are invited to come along as mini Kings and Queens, Super Heroes and their favourite storybook characters. The daylong event starts at 10am transforming High Street and Church Road into a mecca of amusement that will last until 4pm. Make a day of it in Holywood.

Find out more

City of Derry Jazz and Big Band Festival
Location: Derry/Londonderry
Date: 28th April-2nd May 2022

Northern Ireland's biggest and best Jazz Festival returns this May Bank Holiday weekend, 28 April – 2 May 2022! Returning after two years, the celebrations will be even better, featuring artists from all over the World and welcoming more than 70,000 revellers. Among popular acts performing at the Festival this year, include Imelda May, Hyde Park Brass Band, Jumpin' Up! and many more!

Find out more

May Day at the Ulster American Folk Park
Location: Ulster American Folk Park, Omagh, BT78 5QU
Date: Monday 2nd May 2022
Time: 10am - 5pm

Celebrate May Day at Ulster American Folk Park and take part in traditional activities to banish bad luck and keep the fairies away! Visit the Old World and take part in a May Day school lesson, try your hand at American games, listen to Old World tunes and sample some tasty currant bread. Enjoy horse and wagon rides in the New World along with traditional crafts such as candle dipping and wood working!

Find out more

Hit the North Street Art Festival
Location: Union Street & Kent Street, Belfast, BT1 2JA
Date: Sunday 1st May 2022

For the first time since 2019, Belfast will play home to European artists travelling to Northern Ireland to take part in a 'paint jam' on Kent Street. Spectators can expect entertainment, food trucks and refreshments as they watch murals come to life.

Hit The North was established almost a decade ago as part of rejuvenation efforts in the North Street region of Belfast. The festival has seen over 200 artists from all over the world visit Belfast, aiming to bring the city's rich cultural history for mural art into the 21st Century.

Find out more

Jamboree In The Park & Bingo Loco
Location: Ecclesville Centre, Fintona, County Tyrone, BT78 2EF
Date: 30th April – 1st May 2022 7pm – 12am

Why not visit Omagh this Bank holiday weekend as AJS Promotions present Jamboree In The Park?! An amazing country music festival, featuring the top names in country music, Derek Ryan, Mike Denver and The Knights. An event not to be missed!

Find out more

Hillsborough Castle & Gardens
Location: The Square, Hillsborough, Down, BT26 6AG
Price: (Unguided Gardens access ticket prices)
Adult: £5
Child: £3.50
Family: (1 adult, 2 children) £12, Under 5s go free

Spend the bank holiday weekend ambling in the stunning gardens at Hillsborough Castle. The beautiful 18th century mansion, which is the official residence of the Royal Family when they're in Northern Ireland, has 100 acres of ornamental grounds, a fabulous restaurant and gift shop. Book a tour of the castle to see the glamorous Throne room, drawing rooms and dining area used by the Royal Family for private entertainment.

Find out more

Mission Inflatable at Lagan Valley Leisure Plex
Location: Lagan Valley LeisurePlex, 18 Lisburn Leisure Park, Lisburn, Co Antrim, BT28 1LP
Price: Fridays: £6 adult, £4.50 junior; Sundays: £7 adult, £5.50 junior

Make a splash at Mission Inflatable! Take on the challenge of the new water inflatable assault course!
Start your mission across demolition balls, rollers, slides and the amazing Giant's Causeway feature for an unforgettable family adventure! So what are you waiting for? Book your next mission trip this bank holiday!

Find out more

Slieve Gullion Forest Park
Location: 89 Drumintee Road, Meigh, Newry, BT35 8SW
Admission: FREE

Slieve Gullion Forest Park offers the unmissable opportunity to experience tranquil woodland trails and stunning views. Play in the Adventure Playpark; explore the Giant's Lair in the wonderful Hawthorn Hill Forest Nature Reserve and woodland trails, or take a turn in the ornamental walled garden, where you will find picnic benches, an outdoor performance stage, an al fresco coffee bar and a wildlife pond with covered seating areas.

Find out more

Aunt Sandra's Candy Factory – Candy Show
Location: 58-60 Castlereagh Road, Belfast, Antrim, BT5 5FP
Date: 30th April 2022 at 12 noon
Price: £8

Take a trip back in time at Aunt Sandra's Candy Factory and watch old-time candy making at its best. Enter the magical world of chocolate and sweets at Aunt Sandra's Candy Factory Belfast. See up close the magic of the old-time candy making as you take in the colours, smells and magic of a bygone era. Hear how Aunt Sandra began making her famous sweets and how it has been passed from generation to generation.

Find out more

Cranfield Alpacas
Location: 35-37 Cranfield Road, Kilkeel, BT344LJ
Price: Adult: £20, Child: £20, Family Ticket: £45
Stuck for something to do this bank holiday weekend, why not help take an alpaca for a walk?! This experience offers you the chance to learn all about alpacas and get introduced to your alpaca. The trek is around a large field with stunning views of Carlingford Lough and the Mourne Mountains.

Find out more

Kilbroney Park – Narnia Trail
Location: 3 Kilbroney Road, Rostrevor, Newry
Admission: FREE

Chronicles of Narnia author, C S Lewis, often spent holiday times in the Mournes and Rostrevor, allowing his imagination and curiosity to run free. This inspired his creation of the magical world of Narnia. Explore the family friendly loop at Kilbroney Park this bank holiday and let your imagination run free.

Find out more

Whatever you get up to this May Day Bank Holiday weekend, we hope you have a blast! Don't forget to let us know what your favourite bank holiday activity was on Power NI's socials using the hashtag #ThePowerBehindYourWeekend!

* Power NI Perks is only available to Power NI customers. Power NI Perks offers and discounts are subject to change.

Polite Disclaimer from Power NI:

Every care has been taken to portray event information as accurately as possible. If there are any mistakes or if we've missed anything, please drop us a line and we'll put it right. Power NI does not take any responsibility for the quality or cancellation of events, we simply spread the word so you can spread your wings!