---
Everything you need to know about saving money by using energy-efficient appliances in your home. Get practical tips on simple steps you can take to cut your energy use, plus advice on energy ratings and what to do with your old home appliances.
Article Contents:
Benefits of Efficiency at home
Quick tips for energy efficiency
Energy ratings explained
Energy efficiency home appliances

Kitchen appliances
Laundry room appliances
Bathroom appliances
Living room appliances
Bedroom appliances
Home office appliances

Save money on energy-efficient home appliances
Disposing of old home appliances
Benefits of an energy-efficient home

Using as little energy as possible in your home brings a lot of advantages. You can achieve an energy-efficient home by cutting your energy use but also by using energy-efficient appliances that reduce your consumption when you do need to use energy.

The key benefits of making your home energy-efficient include:
Cutting your energy bills
Increasing your property's value
Saving money on home insurance
More comfortable living conditions at a lower cost
Reducing your carbon footprint
Practical tips for saving energy at home

The easiest way to start making your home more energy-efficient is to go for the quick wins. These are the little adjustments and lifestyle changes you can make to immediately cut your energy use.

Energy-saving tips you can use today include:
Choose colder washes. Wash your clothes at a lower temperature — washing at 30°C uses 57% less electricity than at 30°C.
Air dry clothing. Hanging your clothes out to dry will save you around £30 a year compared to the tumble dryer.
Defrost fridge freezers. Your fridge freezer is less energy-efficient if it's full of ice — defrost it regularly to save energy.
Switch off standby. Turn your appliances off properly when you're not using them — standby mode could be costing you hundreds of pounds a year.
If you'd like more practical tips on cutting your energy use, take a look at our How to Save Electricity guide.
Energy ratings explained

Once you've carried out quick-wins to save energy, it's time to look at your appliances to see if they are helping or hindering you. All appliances have an energy rating, which is usually displayed prominently on a label. These ratings help you to work out which appliances will use the least energy in your home.

Appliances are tested to see how much energy they consume during typical use when compared to similar appliances. They are then given an energy rating of A-G, with A being the most efficient. Some appliances are rated from A+++ to G under an older scale, with A+++ being the most efficient.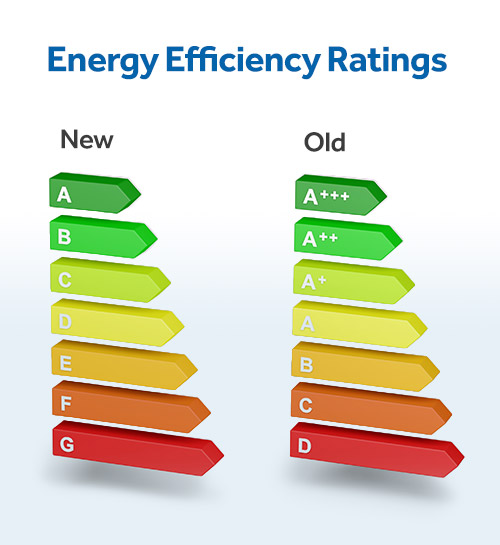 By choosing an appliance with a high-efficiency rating in the class or size that's right for your needs, you can cut your energy use and save money.
What is an energy label & why have they changed?
An energy label must be shown on all electrical appliances to tell you how energy-efficient they are. You'll have seen colour-coded energy labels showing the energy rating of any appliance or white goods you've seen in a shop or online.

The energy rating system was updated in March 2021 to make the scale simpler and to improve the label itself. Energy labels were introduced in 1994 but because the amount of energy used by appliances is reducing across the board to meet demands for more energy-efficient homes, the old scale became less helpful. The new labels reset the scales.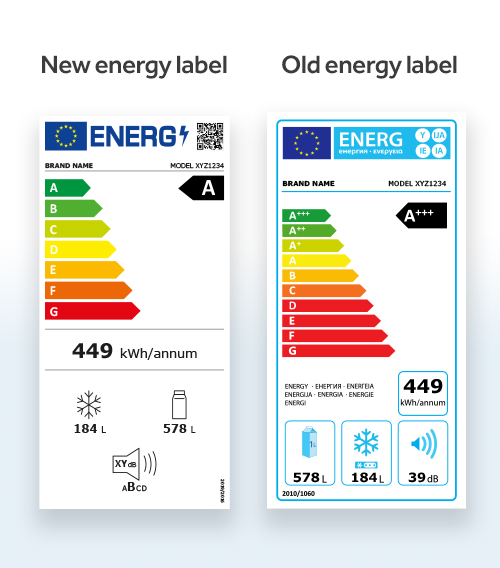 What do the new energy labels consist of?
The new energy labels show the energy rating (A-G), colour coding from dark green (most efficient) to red (least efficient), the manufacturer's brand and model, icons showing the appliance's key features, energy consumption information, and a QR code you can scan for more information. It must also display the UK or EU flag, depending on whether the appliance was on sale in Great Britain or Northern Ireland.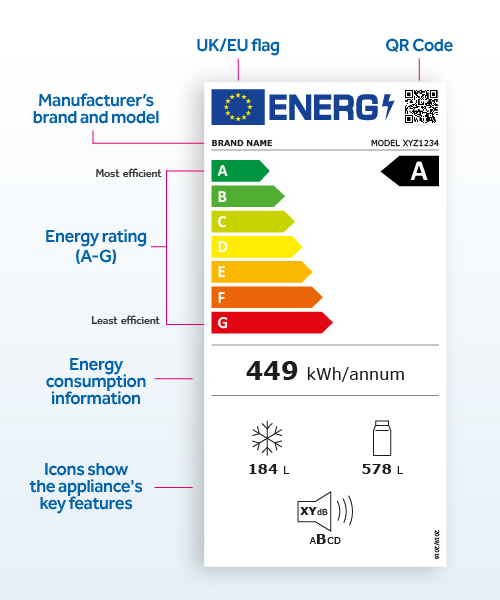 Top energy-efficient appliance for your home

Home appliances have become much more efficient in recent years. This has been driven by improving technology, increasing environmental awareness and rising energy costs. The result is that it's now far easier to find appliances that help you to save money and cut your carbon footprint.

Energy-efficient kitchen appliances
We all need to store and cook food every day. By choosing energy-efficient kitchen appliances, you can cut the cost of essential everyday activities.
Ovens are given an energy rating based on how much energy they need to heat a brick to 55°C. They are rated from A+++ to G using the old energy label system. Choose an oven that has a good energy rating, but also choose one that is the right size for your needs.
Microwaves are often a more energy-efficient way of cooking food than ovens. This is because you only use energy to heat the food itself and not the space inside the microwave.
Air fryers are on-trend at the moment and are another form of cooking that is much more energy-efficient than cookers. But air fryers don't have energy ratings, so it's hard to make a like-for-like efficiency comparison.
Slow cookers are an extremely energy-efficient way of cooking meals. They use about the same amount of energy as an LED light bulb, which is a big saving in comparison to ovens.
Dishwashers have an energy rating of A-G, so opt for an appliance with the highest rating you can. Dishwashers with an A rating cost around £45 per year less to run than G-rated dishwashers of the same size.
Fridges, freezers & fridge freezers
Probably the only appliance you will never switch off, so it makes sense to make it as efficient as possible. Fridges and freezers are rated from A to G. An A-rated fridge-freezer will save you around £800 over its 17-year average lifetime compared to an appliance with an F rating. Choosing a fridge that's no bigger than you need will also cut your energy use.
Choosing a kettle that can boil only the amount of water you need will use around 20% less energy. That usually means buying a kettle with a low minimum fill level of around 250ml. Boiling water taps are energy-efficient for the same reason. A litre of boiling water from a tap might cost just one-third the price of a full kettle of boiling water.

Energy-efficient laundry appliances
Staying on top of the laundry can be as energy-consuming as it is time-consuming. Choosing energy-efficient washing machines and tumble dryers will help you to keep costs down.
Washing machines are rated A to G. A washing machine with an A rating could save you around £130 over the machine's 11-year lifetime in comparison to a D-rated washing machine. Washing full loads and at a lower temperature will increase efficiency.
Tumble dryers use the old A+++ to G energy rating scale. An A+++ tumble dryer will save you around £980 over its 13-year lifetime in comparison to a B-rated tumble dryer. Appliances with sensors to tell you when clothes are dry enough and electric heat pump tumble dryers that recycle warm air to aid the drying process will cut your energy use.

Energy-efficient bathroom appliances
Your bathroom probably isn't the first room that comes to mind when you think of energy use. But there are things you can do to make your bathroom more energy-efficient.
With a shower, you only pay to heat the water you use. By choosing or swapping to an energy-efficient shower head you will immediately reduce the amount of water you use. Less water used means less water to heat, which will cut your energy costs.
The latest extractor fans are built with more efficient motors, which reduce friction to avoid energy being wasted. Some fans include sensors to track moisture levels so that the power used by the extractor fan adapts to meet the need at that time.

Energy-Efficient Living Room Appliances

When we put our feet up to unwind, we might not be using much energy… but our living room appliances could be. Making energy-efficient choices will help you to cut energy consumption in your living room.
Televisions are given an energy rating from A to G, but generally the larger a TV screen, the more it costs to run. LED screens are more efficient than older technology, such as plasma TVs and lamplit LCDs. But OLED and QLEDs both use more energy than regular LED screens.
Smart speakers are typically left on standby permanently ready for when we need them. It costs around £8 per year to have a smart speaker running on standby. Opting for a smart speaker that can be easily switched off and on again as needed will help you to save energy.

Energy-efficient bedroom appliances
Lights out at bedtime instantly cuts energy use in your home, but there are other steps you can take to make your bedroom more energy-efficient.
Energy-efficient bulbs will help you to cut lighting costs in your bedroom. Bulbs have an energy rating from A to G, so choosing bulbs with an A rating will reduce your energy use. Remember to make the swap in bedside lamps, too.
You might be able to cut down on your energy use by using energy-efficient bedroom appliances. Appliances like electric blankets, smart radiator valves and smart plugs will help you to turn down the thermostat or reduce your reliance on central heating.

Energy-efficient home office appliances
Home office appliances can make a significant contribution to your energy bills, especially if you're working from home. Your choice of appliance can help to make your home office more energy-efficient.
Desktop computers are less energy-efficient than other options, so try to make the switch to a laptop or tablet. Your desktop is plugged into your mains electricity, which means it's always consuming power when in use. Remember to shut down your computer properly — not just put it into standby mode — at the end of the working day.
A laptop is a more energy-efficient home office appliance than a desktop computer because you can run it from the battery once it is charged. Smaller screens use less energy and look for appliances with reliable power-saving modes.
Tablets are even more energy-efficient than laptops, using 70% less power on average. You could switch to your tablet for most tasks and only use a laptop or desktop computer for work that requires a larger device.
Save money on energy-efficient household appliances

Ready to upgrade to a more energy-efficient household appliance? Save even more money by using Power NI Perks to buy your new appliance.

Power NI Perks gives Power NI customers exclusive savings at home appliance retailers including Adidas, ASOS, B&Q, Argos and Apple. Put your discounts towards energy-efficient appliances from brands like LG, Miele, Samsung and many others.

See how much you'd be able to save on a new appliance using the calculator on our Power NI Perks page.

Disposing of old home appliances

Old home appliances can be extremely inefficient and push up your energy bills. If you're ready to make the switch to modern, energy-efficient appliances you might be looking for easy, environmentally-friendly ways to get rid of your old appliances.

How to dispose of old electrical appliances?
It's important to dispose of electrical appliances carefully. Any appliance featuring the symbol of a wheelie bin with a cross through it should not go into your household waste.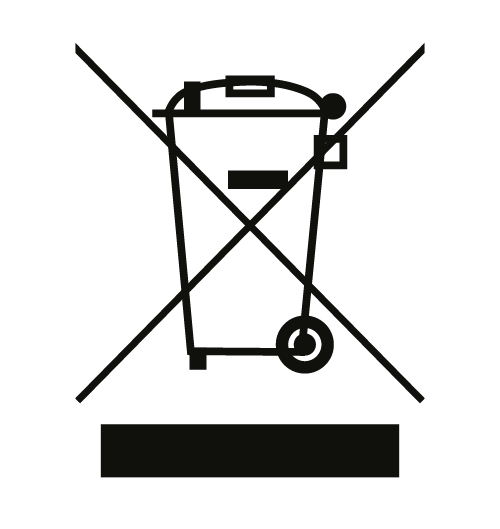 Here are some ways to keep as much of your old appliance out of landfill as possible.
Separating waste. Keep old electrical appliances separate from your general household rubbish. That will ensure any hazardous substances can be removed and useful parts recycled.
Recycling options. Your old electrical appliances can be recycled. You can do this by donating or selling a working appliance so that it can be reused by another household. Otherwise, you can take it to your local authority recycling centre. Some councils will collect bulky items for you.
Retailer take-back. Many retailers offer a collection service to take your old appliance away when they deliver your new appliance. This is often a convenient and cost-effective way to dispose of household appliances at the same time as the replacement arrives.